Insulin is a hormone produced naturally by the pancreas; this substance is crucial for proper body functioning because it is responsible for maintaining blood sugar and controlling glucose levels in people. For those who live with diabetes mellitus, insulin medications were created. Those are available in different forms – vials, cartridges, and pens, and the most comfortable variant should be chosen by a patient and the doctor for administering remedies.
In today's article, we would like to discuss insulin pens and all the important info that might be useful for those who are not so acquainted with this topic. You may be surprised, but there are some significant differences that should be outlined to everyone who requires insulin products to support health.
So, without further ado, let's learn together about pens, the way those should be used, the main benefits of this product, and various other important details. Enjoy!
What Is Insulin Pen and Its Variations?
An insulin pen is a special device used for injecting an insulin dose subcutaneously to a person who needs assistance in controlling blood sugar levels. The reason why it is called a pen is pretty simple – it looks like one. It arrives together with a needle and cartridge with an actual remedy. The dose can be easily set with the dial outside of the pen. Its shape is very comfortable and easy for making an injection. There are two main types – disposable and reusable.
Disposable ones are already prefilled with the needed amount of medication and arrive already ready to use. After injection, a pen should be thrown away; a new one is required every time a patient uses insulin.
Speaking about reusable pens, those shouldn't be thrown away after exploitation. They come with pre-measured cartridges, which can be inserted into the pen and used again when needed.
It is crucial to remember that, even though a pen can be reusable, needles cannot; thus, a new pen needle is required every time you inject the insulin. Needles are available in different lengths and widths so that a perfect option can be chosen together with a doctor for various patients categories.
How to Use an Insulin Pen?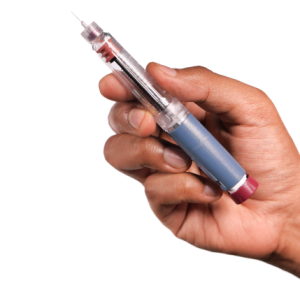 There are a few easy steps every person should follow when using an insulin pen. Here is a step by step instruction for this process:
If you chose a reusable pen, insert an insulin cartridge inside. If it is a disposable one, a cartridge will be already inside;
Remove the cap but don't throw it away – you will need it later;
Hold the pen with a needle pointing up and tap it gently to get rid of air bubbles. When those are on top, press the injection button and wait until a little bit of medication comes out;
Clean the area of injection. The best options are the abdomen, upper arm, buttocks, and thighs;
Set the number of units on the dose knob to the needed number. Push the needle into the skin;
Press the injection button with your thumb until it stops. Keep the pen in your skin for 10 seconds, then pull it out gently. Do not massage the area;
Put the cap back over the needle. After that, unscrew it carefully and throw it away.
Many people find pens more comfortable than a vial and syringe because they are smaller, can be carried around easily, and are sometimes simpler in exploitation. But it is a personal preference only, so discuss it with a doctor if you can.
Why do people prefer insulin pens?
Almost all insulin types are available in pen form. Pens are much easier to carry around; with their help, it is more comfortable to control the dose, and many patients claim that injections are less painful when using a pen.
Not only that, but pens are also more comfortable for people with poor eyesight, as well as for those who have such problems as arthritis that can make the administration process much harder. And don't forget that this device is small, so it is easier to have a dose without drawing unwanted attention from people around you.
What to do with insulin pen needles?
Insulin needles should be thrown away in a special sharps disposal container after exploitation right after the administration. You can talk to people in your local pharmacy to ask about where to buy it, how to use it, and what to do with it afterward. There are a few variants – you can either drop it in special collection sites, use a mail-back program, or order special waste pick-up services. Anyway, it is forbidden to throw needles away in your regular trash bin because, in this way, the chances of accidental injuries become much higher.
Store Insulin Pens Correctly
Unopened or new insulin pens can only be stored in the refrigerator. It is essential to be cautious and not put insulin close to the back of the fridge (it is usually colder there) or near the freezer compartment. All because insulin cannot be frozen, and if it accidentally was, it can't be administered to patients anymore.
Opened pens should be at room temperature for exploitation (otherwise, this process will be painful). You can store a pen for 28 days after opening. Pay attention to the expiration date on the box, and do not use the medication if it already went bad.
Keep the pen away from direct sunlight and places with excessive heat; it may affect the quality of the product negatively and cause dangerous side effect. A storage place should be dry, dark, and away from children who may want to play with a pen.
To Sum Up
Insulin pens for people with type 1 and type 2 diabetes mellitus are a perfect and comfortable alternative to vials and syringes that can be uncomfortable to carry around. With its help, it is easier to control the needed dose, have an injection in public, and administer the remedy if there are any type of health issues.
Not every type of insulin has a pen form, so it is better to consult with a specialist about what medication would be the best for controlling blood sugar levels in your body. Thanks to modern medicine, the options are endless – everyone will find something for themselves!