Finding the right medication for blood sugar control and weight loss is a daunting task, which may be challenging and take some time and a few times to settle on the best option. Of course, you are not alone in this process, as all the steps related to this process are monitored by your doctor to ensure you're safe and don't need any alterations in your treatment.
Still, we believe it's good to be aware of all the available drug options, study them more, and know the difference for the sake of your safety and general knowledge about the sphere. So, today's article is dedicated to two brands of weight loss medications – Wegovy and Saxenda. Here, all the essential dissimilarities, benefits, and other important details will be mentioned, so you can clearly understand why they became so popular on the market. Let's start!
You can buy Saxanda on Insulin.Store website. Make sure you are a registered user to place the order and get your parcel delivered directly to your address. In case there are any questions, our customer support team may be contacted at any time to ensure you have a positive customer experience with our store. 
Introduction and Primary Information
Wegovy and Saxenda are two injectables with similar characteristics; that's why the question of which one to choose for their needs may be confusing for an individual. So, we believe it's better to start with the definition of both brands.
Wegovy is a GLP-1 medication that contains semaglutide as its primary active substance (it was approved for diabetes treatment in 2017 and has been successfully used in this sphere ever since). This product is often confused with Ozempic due to the same active substance; however, Wegovy has a higher concentration of semaglutide. In 2021, this brand was approved as a prescription weight loss medication.
Saxenda is also a GLP-1 injectable that works with liraglutide. This substance was first approved as an addition to diet and exercise plans for patients with type 2 diabetes in 2010 and was mainly sold under the brand name Victoza. In 2017, Saxenda was approved for individuals with a BMI of 30 or higher. Note that Saxenda is not suitable for type 2 diabetes mellitus treatment.
ON A SIDE NOTE:
GLP-1 hormone stands for glucagon-like peptide-1, one of the numerous hormones in the human body that regulate metabolism and digestion. It's usually released when we eat and informs the brain that we are not hungry anymore to control food intake properly. By using medicines with the GLP-1 hormone, it's possible to prevent overeating, and so they are rather helpful for weight control purposes (especially for individuals with diabetes who cannot use diets to lose body mass). 
Concerned about the side effects and safety of Eliquis? The Insulin Store Blog provides a detailed exploration of this anticoagulant medication. Gain valuable insights into potential risks, precautions, and safety measures associated with Eliquis to make informed decisions about your health.
Wegovy vs. Saxenda. The Big Comparison
Now that we know more about some primary characteristics of Saxenda and Wegovy, let's dive into our big comparison to explain some of these brands' main features and how they can be used to treat diabetes.
Effectiveness
Both brands are approved to be used to support the weight loss journey of an individual; they belong to the class of GLP-1 medications, which have been proven rather effective for obese people with or without diabetes.
Saxenda
According to clinical trials, Saxenda is an excellent addition to one's nutrition [lan and physical activities. If used consistently, it can help lose up to 5%-10% of body mass; however, it's not a quick fix for obesity; it requires constant work and dedication. On top of that, Saxenda offers long-term benefits for cardiovascular disease solutions.
To experience maximum progress with this product, a doctor should be involved during every step of one's treatment journey to ensure all alterations are incorporated into one's lifestyle and routine to support the Saxenda effect. It is highly recommended to eat fewer calories, create a suitable workout program, and always stay in touch with a specialist.
Wegovy
Wegovy is a brand widely used for supporting the weight loss journey of diabetic patients. According to the study, people may lose up to 15% of their initial body weight if the product is used consistently. In addition, this product reduces the chances of experiencing cardiovascular events, such as strokes or non-fatal myocardial infarction.
Once again, we want to remind you about the importance of having the assistance of an experienced medical professional because what works best for the majority may not be the right choice for you.
Dosage
Both Saxenda and Wegovy are usually delivered via injections, which is one of the most comfortable and effective ways to introduce the product to one's routine. An important thing to remember is that it's essential to switch the place of the administration to avoid irritations and oversensitivity in the injection spot. Recommended places for these injectables are the upper arm, thighs, the abdomen.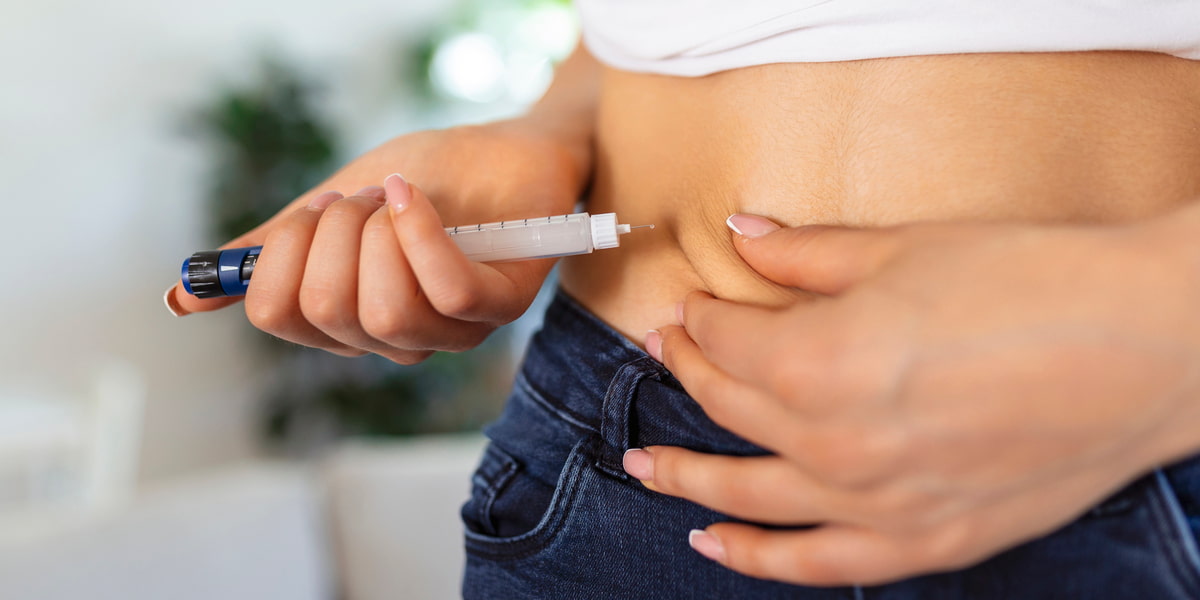 Saxenda
Saxenda is a daily prescription injection for those managing body weight. It should be started at lower dosages and gradually increased till the recommended amount of medication is reached. 0.6mg per day is a typical starter dose, and the number of units must be increased weekly by 0.6mg. This process usually takes four weeks until the average amount of 3mg is finally achieved.
Wegovy
Unlike Saxenda, Wegovy is a once-weekly injection meant to help people maintain a healthy body weight; the best way to use it is by incorporating the product into one's lifestyle after consulting with a medical professional about personal conditions.
The right way to use Wegovy is by starting with a lower dose and raising it gradually within sixteen-twenty weeks to reach recommended 2.4mg. If any adverse reactions occur after its intake, a doctor must be informed immediately to ensure a patient is safe and can continue the therapy safely.
Adverse Reactions
After new remedies are prescribed to an individual, the body may need some time to adjust to a new substance and start working with it properly. Regarding weight management, Wegovy and Saxenda may be the reason for some side effects, so it's better to remember them and discuss them with a doctor if there are any concerns.
Saxenda
The most frequent side effects of Saxenda include the following symptoms:
Constipation, stomach problems;
Headache;
Runny nose, cough;
Heartburn;
Discomfort while urinating;
Fatigue;
Rash or redness in the injection spot.
As always, there is a slight chance of more severe adverse reactions, so it's better to be cautious and inform your doctor if any of these occur:
Ongoing pain in the upper stomach;
Worsening of depression;
Vomiting, diarrhea;
Pounding heart;
Dizziness, fainting;
Trouble swallowing or breathing.
If a specialist is informed about the issues on time, these conditions may be controlled easily. Be careful and pay attention to how you feel after starting to take a new medication for weight maintenance.
Wegovy
One of the most common adverse reactions to this medication meant to lose weight is of gastrointestinal nature. Approximately 75% of patients experience such symptoms as nausea, vomiting, diarrhea, constipation, abdominal pain, frequent burping, heartburn, and others.
Less common but still possible adverse reactions also include:
Skin rash and itching;
Swelling in eyes, lips, tongue, etc.;
Decreased urination;
Blurred vision;
Upper stomach pain;
Skin and eyes yellowing;
Irregular heartbeat.
It is better to keep your doctor updated about all adverse reactions experienced after you start taking Wegovy.
Limitations to Consider
As with every weight loss medication brand, Saxenda and Wegovy have certain limitations that must be discussed with a doctor during the consultation to create an effective, safe treatment plan. Plenty of alternatives are available on the market, so another option for blood sugar management and weight loss may be selected if these two products are unsuitable for one's needs.
The following contraindications must be mentioned to a patient:
Known adverse reactions to the drugs' components;
Personal or family history of medullary thyroid cancer or multiple endocrine neoplasia type 2;
Type 1 diabetes mellitus;
Hypoglucemia (low blood sugar);
Pancreatitis;
And so on.
The best way to ensure Wegovy and Saxends is safe for an individual is to discuss all the nuances with a doctor after going through all required medical tests. Afterward, they can make the final decision and prescribe the person the appropriate medicines.
ON THE SIDE NOTE:
Keep in touch with a medical professional to inform them of all essential details about your eating habits, weight gain or loss, insulin prescription (if there is one), and other aspects. If any dramatic changes are implied, a specialist must correct the dose of the selected remedy to ensure it works properly and fulfills one's needs.
Are you looking for a thorough comparison between Semglee and Lantus insulin? Look no further! At Insulin.Store, we delve deep into the similarities and differences of these two popular insulin options to help you make an informed decision.
Saxenda vs. Wegovy. Which Is Better?
When it comes to weight loss treatment, selecting the best drug option for an individual to see good results in a short time is crucial. That's why it's impossible to answer the question of which product is better – Saxenda or Wegovy.
The right brand should be chosen with a medical professional after discussing a person's needs, looking at their health history and medical examination results, analyzing their diet, etc. Afterward, a routine must also be created because a proper diet and exercise program is great help when it comes to weight loss and blood sugar control. After some time, the dose may be changed to match one's needs better. This is a long journey, but the final results are definitely worth it!
The Bottom Line
Both Wegovy and Saxenda are safe injectables recommended for weight loss management in people with and without diabetes. They work with the same hormone, meaning the working principle of these products is somewhat similar. However, the administration frequency, safety rules, and some other nuances are not the same, so it's vital to visit a doctor's office to select the best option for one's needs. That's it for today's article; thank you for choosing Insulin.Store!