No one will deny that the process of carrying a child is a period that brings magic into the life of every woman. However, it might at the same time lead to a number of well-being complications, gestational diabetes being one of them.
So, what exactly is it? What are its primary causes? And, finally, how to take care of gestational diabetes? Let's delve right in to find the answers to these questions.
What Is Gestational Diabetes?
In simple words, gestational diabetes mellitus is a health issue that is characterized by abnormally high blood sugar levels (or, as it is sometimes called, glucose levels). The main distinctive peculiarity that differentiates it from other types of diabetes health complications (like type 1 or type 2) is that gestational diabetes tends to occur during a period of being pregnant.
There exist two distinct sub-types of gestational diabetes mellitus:
The basic difference between them is that the latter one is considered to be "more serious." While class A1 gestational diabetes might be controlled by healthy nutrition and an active lifestyle, the A2 one should be treated by means of taking diabetes-related medications.
In most cases, women who are forced to live with gestational diabetes do not tend to encounter any specific symptoms. What they can feel is:
An increased thirst;
An accelerated hunger;
A more frequent that usually need to urinate.
These indications, however, might also be experienced by any pregnant woman with a healthy level of blood glucose. Therefore, gestational diabetes is oftentimes diagnosed by means of routine screening.
What Causes Gestational Diabetes?
Since it is a health condition that is oftentimes seen as a complication that occurs while a woman is pregnant, we might assume that the main thing that leads to the disease is impregnation.
In order to understand how gestational diabetes develops in pregnant women, let's go through the description of the way insulin functions in a healthy body (no matter whether it is impregnated or not):
Under normal circumstances, the pancreas of any person releases insulin as a response to the eating process;
The released insulin, in its turn, acts as a substance that moves the sugar (or, as it is also called, glucose) that a person has got while eating from the blood to the cells;
In the cells, sugar is both stored and transformed into energy.
However, here is what happens when a woman gets pregnant: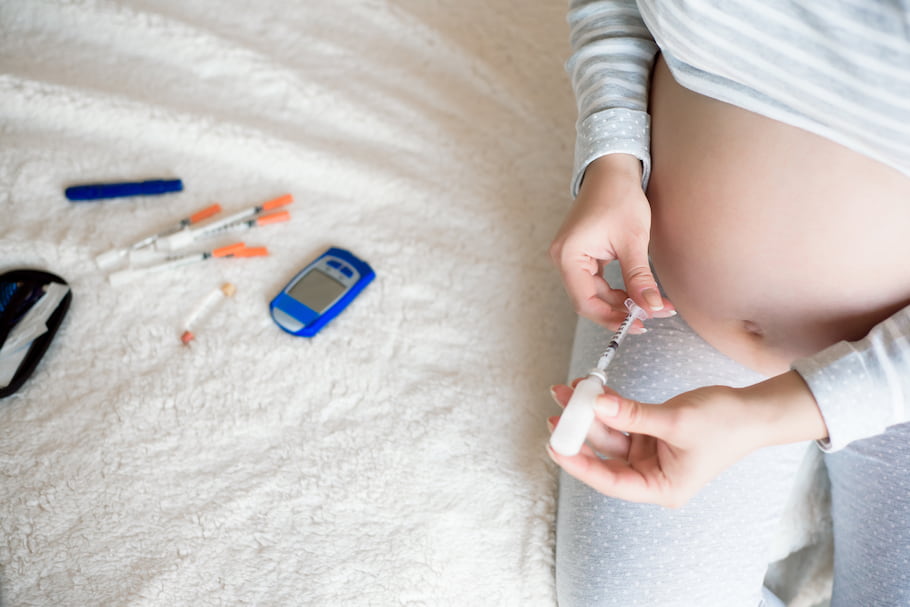 After a woman gets impregnated, her placenta releases hormones (as a reaction to such pregnancy-related body changes as weight gain) that initiate sugar accumulation in the blood;
A woman's pancreas starts to release more insulin in order to reduce the increased level of sugar in the bloodstream and transport it to the cells.
Still, sometimes it happens that the body of a pregnant woman starts to experience one of the following complications:
It cannot produce enough insulin to manage the increased level of sugar in the bloodstream;
It still produces enough insulin but cannot manage it in a proper way (which leads to the occurrence of insulin resistance).
As a result of both above-mentioned complications, too much glucose remains in the blood of a pregnant woman, which supports the development of gestational diabetes.
Despite the fact that any pregnant woman might find herself at risk of developing gestational diabetes, here are the factors that make the disease even more likely to occur:
You have had extra weight before becoming pregnant;
You have a prediabetes health condition (your blood glucose levels are higher than normal but not high enough to be diagnosed with diabetes);
You have had cases of diabetes in your family;
You suffer from such health conditions as high blood pressure or high cholesterol levels;
You have become pregnant at the age older than 25.
P.S. You might be at a slightly higher risk to develop gestational diabetes during the state of being pregnant if you belong to the African, Native American, Asian, Hispanic, or Latino race).
All the above-mentioned risk factors increase the possibility to be diagnosed with gestational diabetes. Hence, it is of vital importance to undergo routine screenings (including the special glucose tolerance test) to diagnose the disease and treat it in time.
How to Treat Gestational Diabetes?
Predominantly, gestational diabetes mellitus disappears on its own after a woman gives birth to a child. However, improper disease control during pregnancy might lead to a number of complications, namely:
Your future child might be at a greater risk of certain health problems (for instance, your baby's blood sugar level might be either too high or too low after it is born);
You might develop type 2 diabetes at a later stage of your life.
In order to minimize the possibility of these complications, make sure to take proper gestational diabetes care that will be prescribed by your health care practitioner.
A Balanced Diet and Regular Exercising
Principally, gestational diabetes might be managed by means of eating healthy foods and doing regular physical activity (in order to maintain a healthy weight). These simple actions will not only lead to losing extra weight but also allow you to have a healthy pregnancy. Furthermore, they will have a positive effect on your upcoming baby's health. Check out our article about the list of the best snacks for gestational diabetes.
Insulin Injections
Occasionally, it might be impossible to manage gestational diabetes by means of simply leading a healthy lifestyle. If balanced eating and consistent exercising do not help you to return to normally low blood sugar levels, special insulin injections might be needed.
P.S. Apart from the above-mentioned methods to manage high blood glucose levels, pregnant women who live with gestational diabetes should undergo a special blood test on a regular basis and follow other individual recommendations their health care practitioners might give.
Final Words
All in all, gestational diabetes is a health complication that is characterized by a high blood glucose level during the state of being pregnant. While being caused by a number of risk factors such as excessive weight or high blood pressure, the disease might be managed with a variety of methods such as healthy eating, an active lifestyle, and the intake of special medications. So, check your health condition on a regular basis (especially if you are pregnant), stay in touch with your health care practitioner, and remain "alive and kicking" at all times.